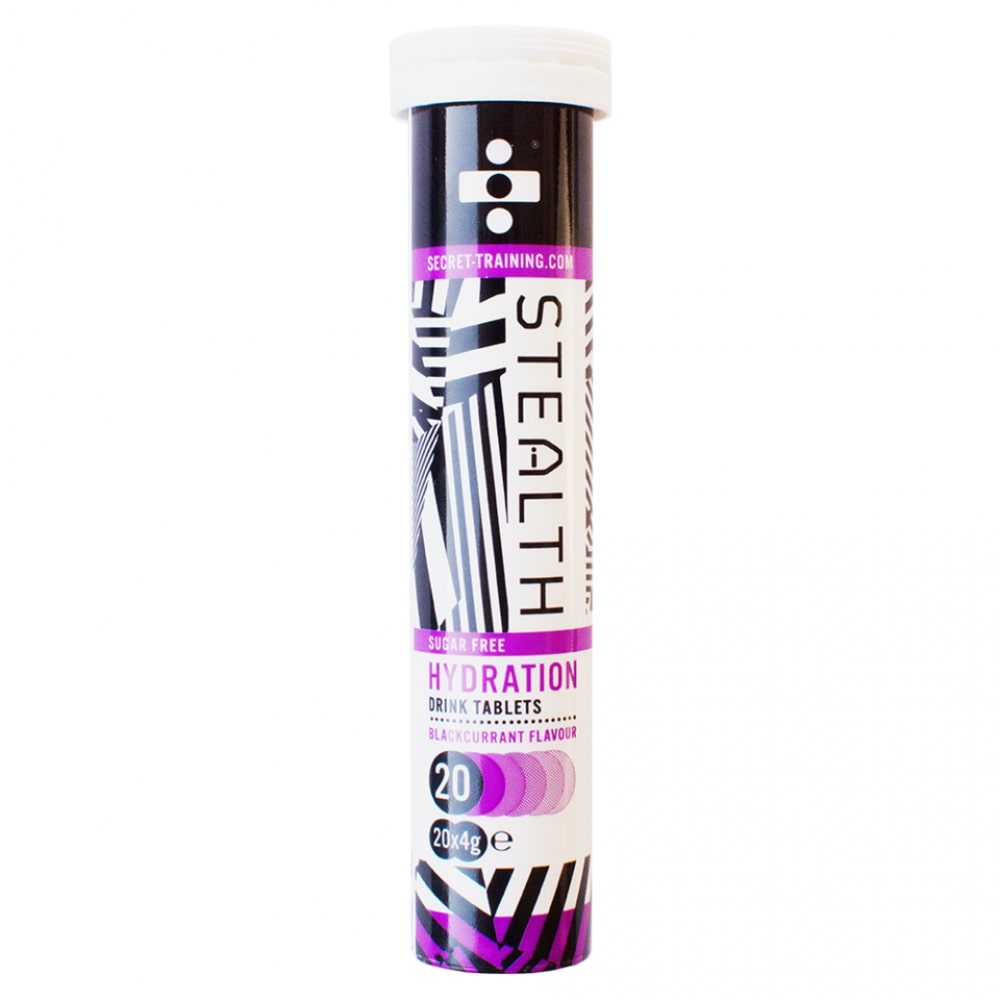 Stealth Hydration Tablets with balanced electrolytes to keep you hydrated when you need it
Product Benefits :
Sugar-free effervescent tablet
1 tablet into 500ml water will produce a 30ml/L sodium solution

Suitable for vegans

4g per tube

Ingredients

Citric Acid, Electrolyte Mix 40% (Sodium Bicarbonate, Sodium Chloride, Tricalcium Phosphate, Potassium Chloride, Calcium Carbonate, Magnesium Carbonate, Zinc Citrate), Anti-Caking Agent (Polyethylene Glycol), Inulin, Bulking Agent (Sorbitol), Maltodextrin, Colour (Beetroot Red), Sweetener (Sucralose), Triacetin, Natural Flavouring, Acacia Gum, B Vitamins (Pyridoxine Hydrochloride, Riboflavin-5-Phosphate, Thiamine Hydrochloride) 
Directions for Use

Add one Hydration Tablet to 500ml of water and allow to dissolve. Consume within 24 hours, best served chilled.


Nutritional Information
 
Per 100g
Per 4g
Energy

714kj/166kcal

29kj/6.6kcal

Fat
0g
0g
Carbohydrate
11.1g
0.44g
Polycl
3.5

0.14g

Sugar
0.35g

<0.14g

Protein
0.5g
0.2g
Fibre
3.4g

0.13g

Sodium
8.9g

0.36g
Equivalent to salt
22.3g

0.91g

Vitamins B1
0.4mg


Nutritional value - 18%

Vitamins B2
0.3mg

Nutritional value - 21%

Vitamins B6

0.4mg

Nutritional value - 29%

Potassium
65mg

Nutritional value -

 3.3%

Calcium
102mg

Nutritional value - 13%

Magnesium
8.1mg

Nutritional value - 2.2%

Zinc
1.3mg

Nutritional value - 13%

About Secret Training

Secret Training is the brainchild of European Champion Track Cyclist, Tim Lawson. An elite masters athlete, with over twenty years' experience in developing the best sports nutrition products, working with athletes from beginners, right up to Olympic medalists and Pro Tour winners. Produced with a clear purpose to look after your personal care and nutrition, drilled down to the fundamental need of each of these products and using appropriate technology to provide effective race day solutions, prioritising the health and performance of the athlete. Developed and tested with highspeed track cyclists, in the mud of the world cup cyclo-cross circuit and on endurance rides, Secret Training was born.