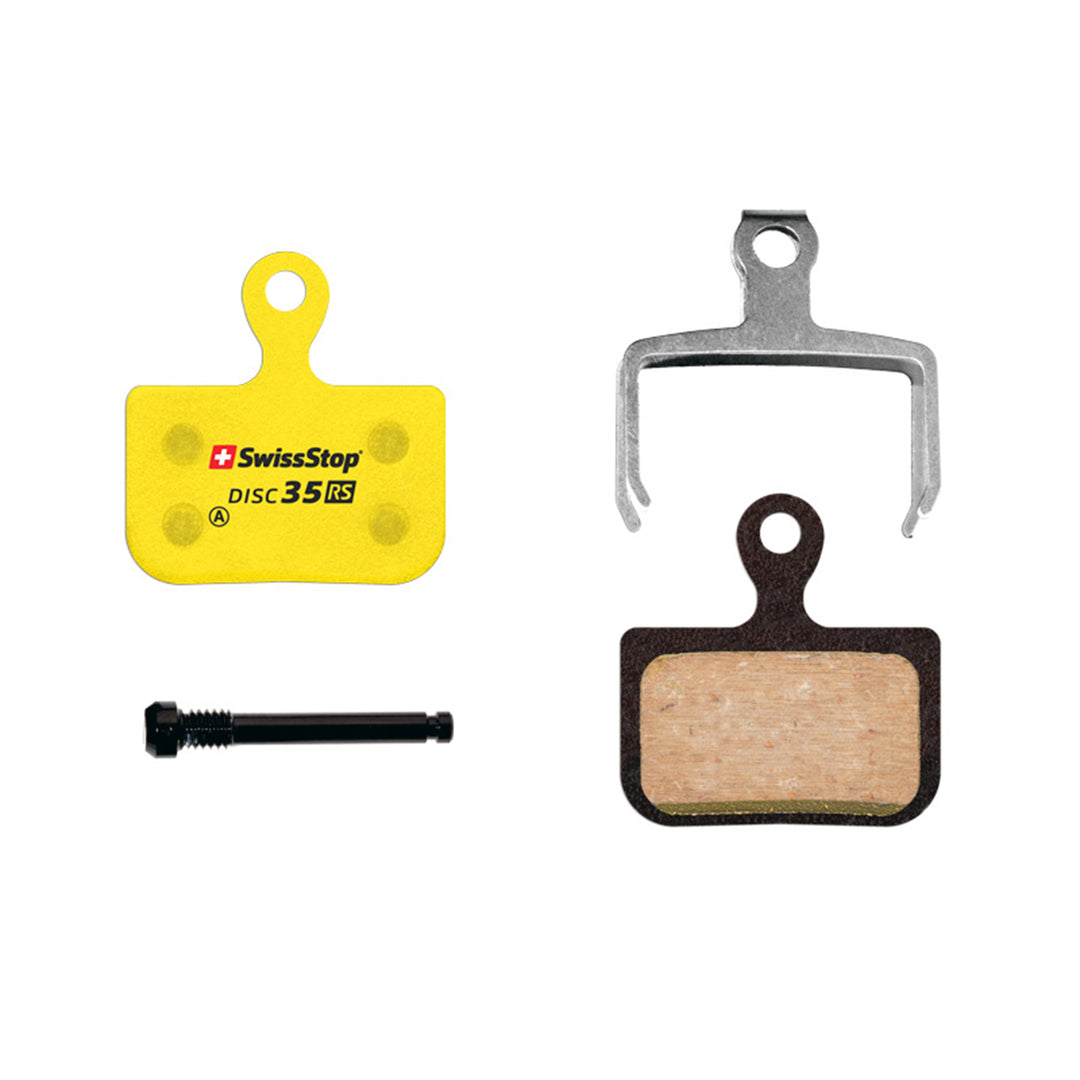 Model Disc 35 Compound Disc RS Disc RS delivers powerful braking and precisely balances the performance characteristics important to racers and everyday riders alike. Disc RS provides extremely quiet operation in all environments. In wet, dry, snow and ice conditions the compound is noiseless. Organic compound Smooth modulation and rotor friendly. At 1.6mm thick the steel backplate saves weight over standard designs, yet provides the preferred thermal characteristics, strength and stability of steel. Reduced thickness backplate is offset with additional friction material, providing longer pad service life. Disc RS offers a highly balanced combination of brake performance, durability and incredibly low noise in all conditions. This finely tuned compound provides an ideal riding experience which is not found in other disc brake pads.
Characteristics
consistently quiet operation
smooth feel in the brake lever
v

ery high durability

predictable and progressive brake power
Performance
Fits :
SRAM Brake Calipers - Red eTap AXS (Gen. 2 'Two-Piece' caliper), F

orce eTap AXS, Rival eTap AXS, Level Ultimate,TLM B1 (2020+),TL,T,Level, XX, XO

Avid Brake Calipers Elixir

 9,7,5,3,1,CR,R
Brake Pads Proper Break-in Guide :
Step 1. On a gradual downhill slope, drag each brake for 20-30 seconds, alternating between front and rear. Repeat 2-3 times.
Step 2. On a steeper slope, engage and drag the brakes for 10-15 seconds then increase lever pressure until the bike slows almost to a complete stop. Repeat 2-3 times.
Pro Tip: The front pads will have been heated more than the rear. To achieve optimal performance, exchange the front and rear pads then repeat Step 2.
CAUTION before replacing or exchanging brake pads it is essential to let all parts cool.